Whodunit? Gustavus Theatre Puts on Murder Mystery Radio Show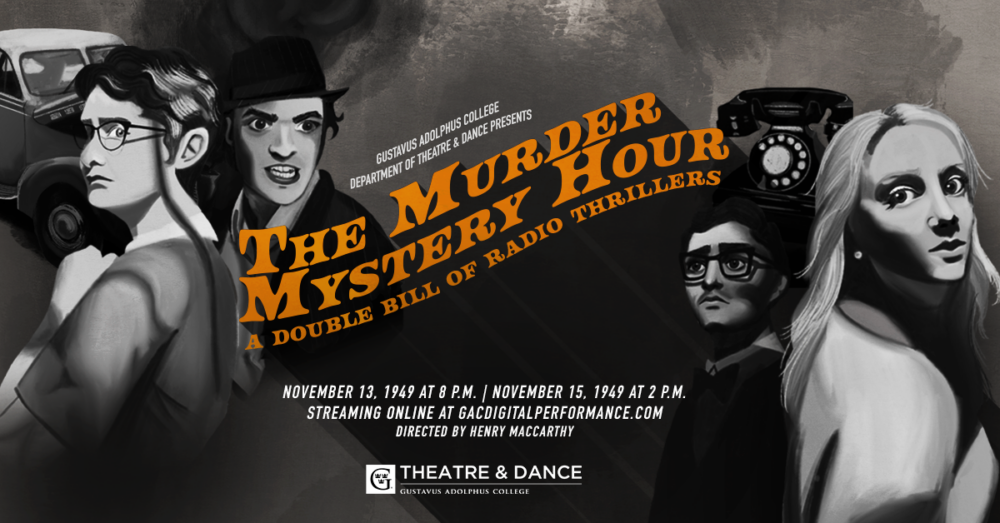 While the "Golden Age" of radio may be long past, the Department of Theatre & Dance at Gustavus Adolphus College is bringing radio performance back in its fall show, The Murder Mystery Hour: A Double Bill of Radio Thrillers. This audio-based production streams online November 13 and 15.
"When we were choosing what we were going to do this season, we decided, because there was so much unknown about the fall semester, that we needed to pick a title that we could do regardless of what the situation was going to look like," director Henry MacCarthy says. He selected a pair of radio plays that could be performed live in front of an audience, rehearsed live but performed digitally, or rehearsed and recorded fully remotely as a radio production. When Gustavus made the call earlier this year to only have first-years on campus for the first three weeks, the department made the call for the fall show to be entirely remote and performed as a radio drama.This show includes two short murder mystery radio plays from the 1940s. In one play, a woman finds herself in the middle of a scam gone wrong. In the other, a murder plot is accidentally uncovered, and a woman tries to figure out who is attempting to kill her through a suspenseful series of twists and turns.The production was rehearsed entirely online. A recording studio was set up in the Schaefer Fine Arts Building, and actors signed up for times to record their lines for the final product. All actors recorded their lines separately after rehearsing together on Zoom. The ensemble actually recorded the show twice. The group rehearsed, recorded, and edited together the show, and was able to listen to it and critique it. After that, the ensemble rehearsed again, before repeating the recording and editing process to create a more polished piece.
Content retrieved from: https://finearts.blog.gustavus.edu/2020/11/09/whodunit-gustavus-theatre-puts-on-murder-mystery-radio-show/.