East Lynne Theater Co. Presents SHERLOCK HOLMES ADVENTURE OF THE SPECKLED BAND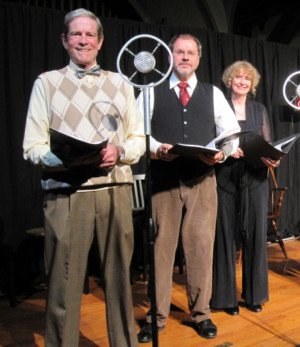 "Mr. Holmes, I am under such a strain that I shall go mad if it continues. Do you think that your powers could shed a little light in the darkness which surrounds me?" asks Enid Stonor. And with these words, Sherlock Holmes and Dr. Watson find themselves in a race against time to stop the bizarre murders in an eerie country manor.
Step back in time, on Fridays and Saturdays, October 26 – 27 and November 2 – 3 at 8:00 p.m., when the Equity professional East Lynne Theater Company presents Sir Arthur Conan Doyle's "Sherlock Holmes' Adventure of the Speckled Band" in the style of a radio broadcast, complete with live sound effects and commercials, just like the Sherlock Holmes' radio series on NBC that premiered in 1930.
"The Speckled Band" was adapted by Craig Wichman with the permission of Dame Jean Conan Doyle. Craig is Founder and Producer of the nationally acclaimed Quicksilver Radio Theater and this script received the National Federation of Community Broadcasters' "Gold Reel" for Radio Drama Award.
The cast, under the direction of Gayle Stahlhuth, includes Craig, portraying Sherlock Holmes, and Lee O'Connor, who, after 10 years of playing the famous sleuth, is taking on the role of Dr. Watson. Craig has performed in several Off-Broadway productions, and appeared in television's "Law and Order." Lee, ELTC's technical director, is one of the main storytellers for the company's "Tales of the Victorians," and performed in ELTC's "The Dictator" and other shows.
Content retrieved from: https://www.broadwayworld.com/new-jersey/article/East-Lynne-Theater-Co-Presents-SHERLOCK-HOLMES-ADVENTURE-OF-THE-SPECKLED-BAND-20181019.