You are the star in BBC's interactive radio drama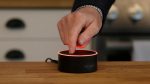 If you have ever found yourself shouting at the radio, the BBC has a new programme just for you.
The corporation launches an interactive drama for voice-controlled devices today, allowing listeners to influence the plot by speaking into their Amazon Echo.
The technology allows the listener to become a protagonist in a science fiction drama, talking to other characters and determining how the story develops.
In The Inspection Chamber, the "player" takes the role of an alien creature being interrogated by two scientists and an intelligent computer named Dave. The scientists are trying to identify the creature's true nature, with the outcome of the 20-minute scenario dependent on the answers you provide.
Content retrieved from: https://www.thetimes.co.uk/article/you-are-the-star-in-bbc-s-interactive-radio-drama-amazon-echo-h76rrdth6.