Adobe Theater Presents Agatha Christie's The Mousetrap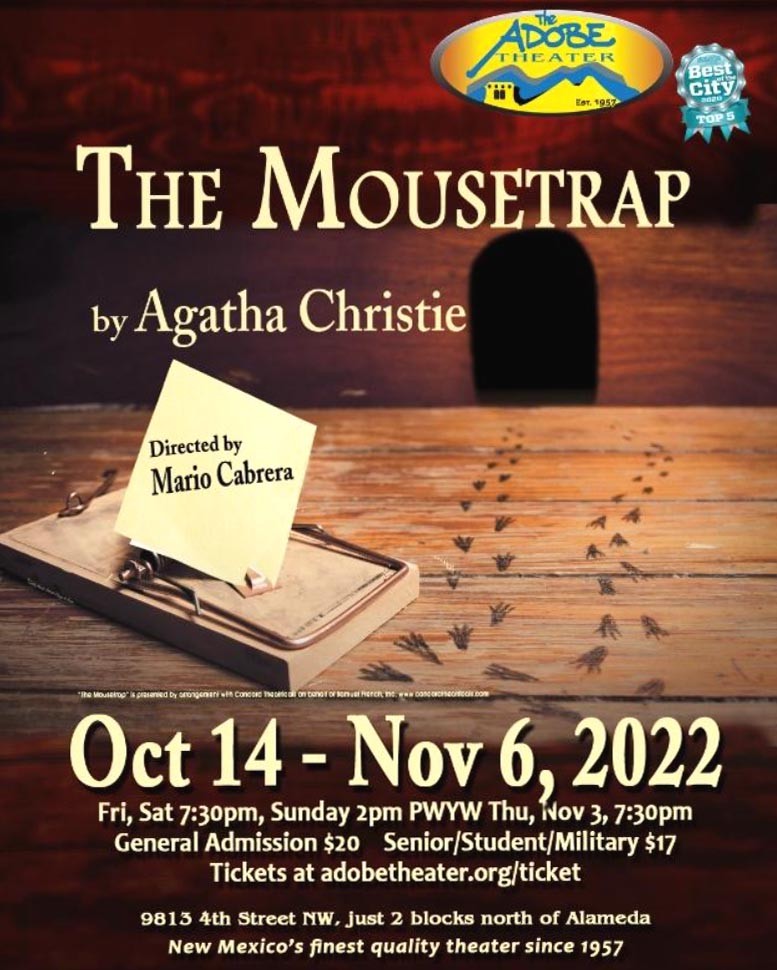 Theater News:
The Adobe Theater presents Agatha Christie's The Mousetrap opening Friday, Oct. 14.Performances are 7:30 p.m. Fridays and Saturdays and 2 p.m. Sundays Oct. 14 through Nov. 6, with a "Pay What You Will" 7:30 p.m. Thursday Nov. 3 at the theater at 9813 4th St. NW, in Albuquerque.Agatha Christie's iconic murder mystery, about a group of strangers trapped during a snowstorm, is brimming with intrigue, sophisticated humor and surprising twists. Who Done it?! And can we still wonder after so many versions? Can an Agatha Christie mystery still be interesting if you already know the ending? The Mousetrap may be Dame Agatha's most famous drama due to its record run (ongoing since 1952) in London's West End. But its longevity is more due to do its endless attraction to the playing out of the mystery. "Will it turn out differently this time?" The Mousetrap was originally written as a 20-minute radio drama for Queen Mary as an 80th birthday gift, following Queen Mary's request for a new radio play by Christie. It is a tightly crafted, enjoyable, thoroughly intriguing and entertaining piece of theatre.
Content retrieved from: https://ladailypost.com/adobe-theater-presents-agatha-christies-the-mousetrap/.