Dystopian Cities and Ghost Stories: An Interview with Jeffery Gardner of "Our Fair City."
"Greetings, policies."
If you know about the HartLife Insurance Company, the mole people revolution, or urban legends of ant-people, then chances are you've listened to Chicago's ongoing podcast radio drama, Our Fair City. Now in its eighth season, Our Fair City is the continuing story of the put upon and desperate citizens or policies, living in a sprawling metropolis under the iron grip of HartLife. We had the opportunity to talk to Jeffrey Gardner, Executive Producer, Director, and Actor for HartLife NFP, the group responsible for the podcast. We spoke about Our Fair City's longevity through eight seasons, what the cast and crew has learned in the radio drama business, and what they have planned with their next project, Unwell.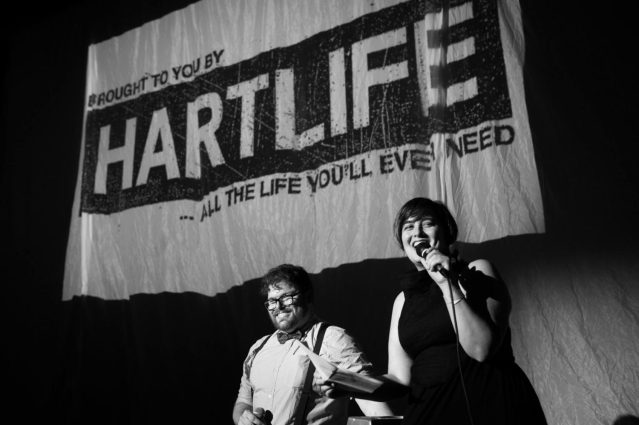 Jeffrey Gardner and Elenor Hyde at the Season Eight launch party. Photo by Sebastian Orr Photography. Provided by HartLife NFP
"Our Fair City is the story of what happens when an insurance company is given control of every aspect of your life," said Gardner. "It's set in a post-global climate change future, in a corporate totalitarian city-state populated by mad scientists, mole people, revolutionaries, and actuaries. As you can probably tell, the tone ranges from B-movie camp to biting social commentary."
Gardner himself is no slouch when it comes to the theater arts, having stage credits in at the Sideshow Theatre, New Leaf Theatre, Eclipse Theatre, Steppenwolf Garage, Collaboraction, WildClaw Theatres Deathscribe Festival, and the Chicago Fringe Festival. Of the different characters Gardner plays, he's mostly known as the Voice of HartLife–the opening narrator of each episode and a sort of Greek chorus for the entire story.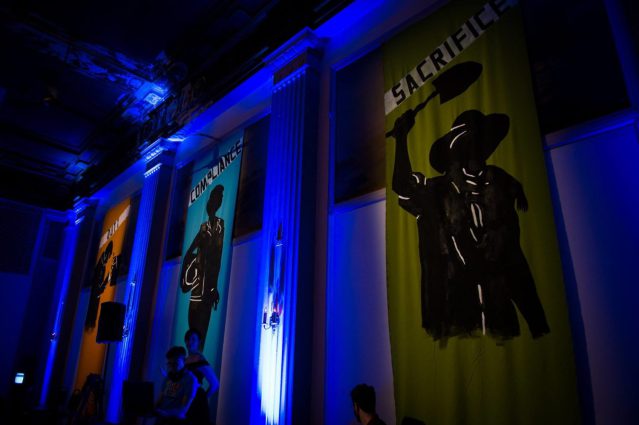 Season eight launch party. Picture taken by Sebastian Orr Photography. Photo provided by HartLife NFP
With the show now wrapping up its final season, HartLife NFP has expanded from humble and passionate beginnings into a rotating crew of artists and staff of every sort adding to the show's quality and mythology, according to Gardner.
"Our Fair City grew from a conversation between a few early-20s museum employees in a breakroom to an eight season audio drama epic supported by a sprawling set of other artistic works," said Gardner. "A comic series, live shows, high-concept parties, visual art, musical performances and more. Over a hundred artists, administrators, actors, and technicians have worked on the show since 2011, and it has been downloaded over 2 million times on iTunes.
"We've learned a ton about making good audio theater, and the medium has really expanded as well. When we launched, there was no Apple podcasting app. Listeners came to our website and clicked through episodes in sequence. We've also been really lucky to have shows like Serial bring people into podcasting. The rising tide really has lifted all ships."
DK Catnip at the Season Eight launch party. Picture taken by Sebastian Orr Photography. Photo provided by HartLife NFP.
Not only has Our Fair City been a consistently popular podcast, but it has also gravitated to the podcast's original radio roots. According to Gardner, they've been broadcasted on local NPR affiliates in Ohio, Maine, and on Canadian local radio. The show is also the recipient of numerous awards since its inception, including several Mark Time Awards  and AudioVerse Awards, and was a ranked finalist in the Parsec Awards.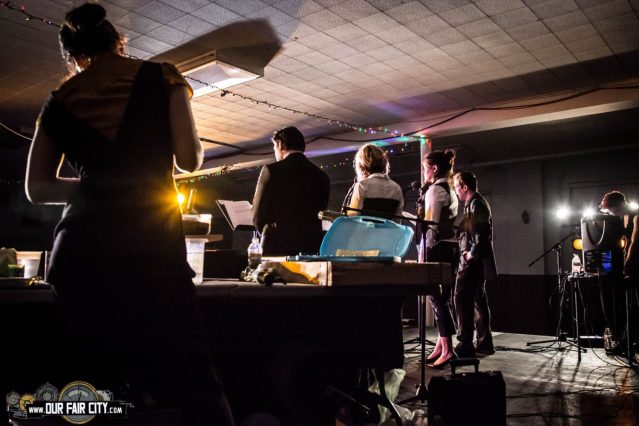 Our Fair City Live Show. Picture taken by Jenna Braunstein Photography. Provided by HartLife NFP
"My favorite might still be the Audience Choice award we won for one of our live shows at the Chicago Fringe Festival," said Gardner. "It meant a lot to us to be honored by the people who were seeing our work."
As the long-running show now draws to a close, Gardner and company have been casting for their next radio drama series, Unwell. A major departure from the satirical schlocky sci-fi of Our Fair City, Unwell explores more personal narratives using ghost stories as the framework–think towns with dark secrets, and a world shrouded in Gothic horror.
"Unwell is an audio drama about the mutability of memory, families of choice and blood, and the beauty and terror of the rural Midwest," said Gardner. "In the first, season, Lillian Harper moves to the small town of Mt. Absalom, Ohio, to care for her estranged mother Dorothy who has just showed the first signs of early-onset Alzheimer's. Living in the town's boarding house, which has been run by her family for generations, she discovers conspiracies, ghosts, and a new family in the house's strange assortment of residents.
[For] me personally, [Unwell] stems from my time living in rural Ohio, watching my Mother care for her parents with dementia, and my love of ghost stories and existential horror. I'm pulling a lot of inspiration from Mark Z. Danielewski's House of Leaves, the delightful tv show Gravity Falls, and the works of John Bellairs, who wrote what I can only describe as YA Gothic Horror, illustrated by Edward Gorey. If you're a fan of any of the above media, I think you'll love Unwell."
According to Gardner, Unwell is planned as a five season series, with a new season to be released each year. For more information on Unwell and Our Fair City visit HartLife Productions at www.ourfaircity.com.
Content retrieved from: https://thirdcoastreview.com/2018/02/21/p744eu-6fe/.