"INSIDE PSYCHO" podcast explores the untold story in new vivid horror series!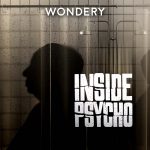 In January 2017, Wondery launched their "HOLLYWOOD & CRIME" audio drama which took listeners through Hollywood's most notorious crimes with a focus on the Black Dahlia Murder case. Now, they are back to launch their next original series, ""! This in-depth production is bone-chilling. With a much needed "for mature audiences only" warning to open the episode, the stories take you to a deep, gory place leaving no gruesome details untold.
Read more about the "INSIDE PSYCHO" podcast series:
Neither documentary nor straight narrative. Neither radio drama nor true crime story. Inside Psycho is a biopic without the pictures. It's a movie with sound only. Every word is either true or tells a larger truth about the making of this classic movie. This is, first and foremost, an entertaining tale of creation and destruction, birth and death, success and failure, awards and notoriety, fear and loathing, firsts and lasts.
If you thought you knew Psycho, hear it with all new ears.
Inside Psycho weaves an entertaining tale of the horrible mass killings that inspired the movie Psycho and the extraordinary struggles involved in making a movie that, against all odds, became one of the biggest hits of all time. A movie that was the biggest risk of Alfred Hitchcock's career. A movie where the star dies after only 47 minutes. A movie its studio hated. A movie the New York Times called "a blot on an honorable career." A movie now regarded as one of the finest ever made. A movie that changed…everything.
This is not just a show for film-buffs or horror fans. It's a show for anyone with a love of entertainment who wants to hear about the rollicking adventures behind the scenes of a great motion picture. It's a show for anyone who has ever created something great but was still full of fear and doubts. It's the creative journey, and the hero of that journey is the famed filmmaker Alfred Hitchcock.
Content retrieved from: http://www.fangoria.com/new/inside-psycho-podcast-explores-the-untold-story-in-new-vivid-horror-series/.