L.A. Theater Works Brings 'Judgement at Nuremberg' to Jamestown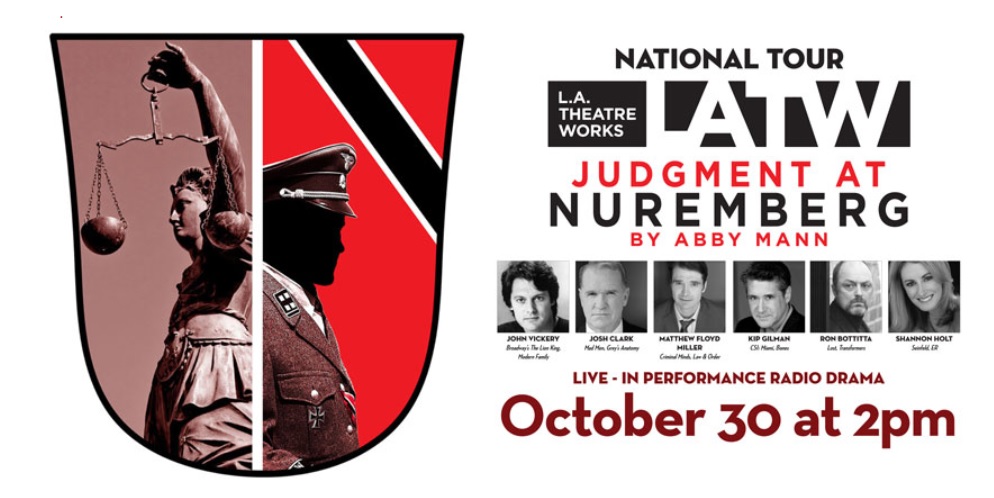 JAMESTOWN – A major production focusing on one of the most significant legal milestones of the 20th century will be coming to Jamestown this weekend.
The national theater tour of "Judgment at Nuremberg" will be presented Sunday, Oct. 30 at 2 p.m. at Reg Lenna Center for The Arts.
The live – in performance radio drama is presented by L.A. Theatre Works in commemoration of the 70th anniversary of the original trials, which featured area native – Justice Robert H. Jackson – as chief prosecutor.
The play will be performed in full costume with video productions, period furniture, music and live sound effects.
Originally a riveting teleplay, Judgment at Nuremberg became an Academy Award winning film and a stage play by Abby Mann that is both surprising and unsettling. In this absorbing and complex drama, a cast of unforgettable characters play out their high stakes game against the backdrop of a looming Cold War, shifting political alliances, and the shocking and vivid memories of the Holocaust and World War II.
Professional actors from stage and screen will perform the play, including: Josh Clark – currently on HBO's Westworld, John Vickery (Broadway's The Lion King, Modern Family), Matthew Floyd Miller (Criminal Minds, Law & Order), Kip Gilman (CSI: Miami, Bones). Ron Bottitta (Lost, Transformers) and Shannon Holt (Seinfeld, ER). Also performing are Dylan Jones and Jeff Gardner.
Tickets are on sale at Reg Lenna Center for The Arts box office. Sales are also available by calling 716.484.7070 or visiting reglenna.com.
Content retrieved from: http://www.wrfalp.com/l-a-theater-works-brings-judgement-at-nuremberg-to-jamestown/.