Canadian Content Showcase – CBC Radio Crime Drama "SOMEONE KNOWS SOMETHING" reaches 18.3 million downloads.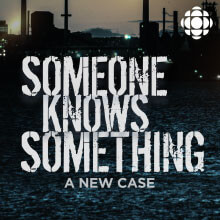 The art of story telling has many forms online and podcasts are part of the mix. This showcase on Canadian content shows what CBC Radio One, a public broadcaster, is doing with what was old but now new in digital entertaintment options.
This audio only podcast reality crime drama series focuses on a standalone Canadian cold case in an effort to unearth new information that could propel the case forward, while also uncovering how the events have affected the families and communities involved. Listeners are brought deep into the mystery, hearing new evidence and first-hand accounts from those closest to the investigation. There are 11 episodes in season 1 that started in the March 2016  and season 2 just ending February 2017 with 12. Listeners can download a 80 minute episode. PODCAST LINK
To raise the profile of Canadian content stories like will showcase the latest news from content creators in the media industry in Canada. If you have great content you want to share with Masthead readers send the stories to masthead@reflexmediasales.com.
Since its premiere, the show has sparked renewed interest in the cold cases of Adrien McNaughton (season 1) and Sheryl Sheppard (season 2). Season 1 explored the disappearance of five-year-old Adrien McNaughton, who vanished on a fishing trip with his family more than 20 years earlier. Season 2 examined the disappearance of Sheryl Sheppard, a 29-year-old Hamilton woman who went missing in January 1998.
Hosted by award-winning filmmaker and writer David Ridgen, SOMEONE KNOWS SOMETHING has aided in uncovering leads and tips that law enforcement are currently pursuing in an effort to close the two unsolved cases. CBC Radio One is Canada's top-rated radio destination for news, current affairs, arts and cultural programming. CBC Radio One's programming is distinctly Canadian, reflecting all regions of the country while providing a uniquely Canadian perspective on the world.
SOMEONE KNOWS SOMETHING PODCAST LINK
Content retrieved from: http://www.mastheadonline.com/news/canadian_content_showcase_cbc_radio_crime_drama_%E2%80%9Csomeone_knows_something%E2%80%9D_reaches_18.3_million_downloads./.