Dramatization of massacre set for radio broadcast
By JILL WHALEN / Published: June 7, 2017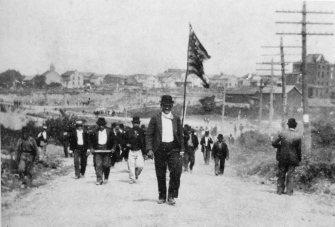 BURG COLLECTION, PENNSYLVANIA STATE ARCHIVES Strikers are seen on their way to Lattimer Mines on Sept. 10, 1897, the day of the massacre.
STANDARD-SPEAKER FILE The Lattimer Monument is shown. A re-creation of the massacre will take place on the radio in September.
Bill Bachman is hoping people close their eyes and listen to a radio dramatization of the Lattimer Massacre.
"Radio was called 'theater of the mind,' because you could sit in a dark room, and if the program was written well and included decent sound effects, you could paint the scenery in your mind," said Bachman, a Penn State professor who wrote and produced the radio play.
Bachman's dramatization will be part of this year's Lattimer Massacre memorial services, which are organized by the Greater Hazleton Interfaith Ministerium and will be held Sept. 10. The memorial begins with a 3:30 p.m. prayer service at the Lattimer monument, near the intersection of Lattimer and Quality roads.
The radio play follows at 4:15 and a reception will be held at Emily's Bed and Breakfast in Lattimer at 5:30.
This year marks 120 years since the Sept. 10, 1897, event that pitted coal company owners, the sheriff of Luzerne County and striking miners against each other.
Nineteen died.
Content retrieved from: http://m.standardspeaker.com/news/dramatization-of-massacre-set-for-radio-broadcast-1.2202877.