'Homecoming' Podcast Debuts Second Season With Companion Novel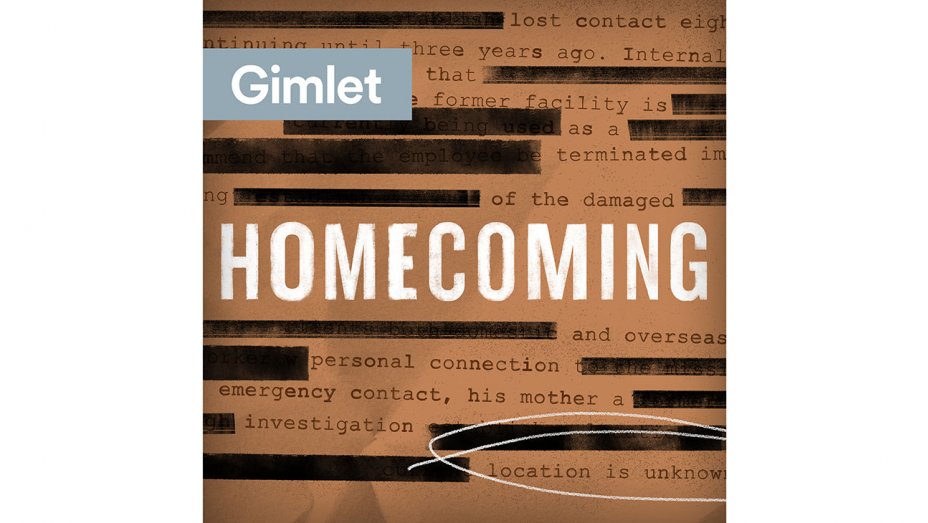 The popular scripted podcast from Gimlet Media has also landed a two-season order for a TV adaptation with Amazon.
The same day that Homecoming landed a television home, the popular podcast has returned for a second season. But while much has happened for creators Eli Horowitz and Micah Bloomberg in the seven months since the first season ended, the plot for season two picks up right where it left off.
Catherine Keener is returning as Heidi, a former caseworker at the Homecoming project who, five years later, is starting to remember just what her work entailed. Now she and her former government superiors are on the hunt for one of her subjects, Walter Cruze (Oscar Isaac). While much of the cast from season one is returning, including David Schwimmer and Amy Sedaris, a number of new voices will make their debut on the scripted drama, including Michael Cera and Alia Shawkat.
"We tried to give [season two] its own feel, it's own heartbeat," says Horowitz, who directs the series in addition to co-writing with Bloomberg. "It's got a new palette — new music, new art. I didn't want to try to squeeze drama from the same note again."
Homecoming debuted last fall as the first scripted podcast from Gimlet Media, the company known for podcasts including Startup and Reply All. It drew raves and eventually attracted the interest of Hollywood. Mr. Robot creator Sam Esmail is now working with Horowitz and Bloomberg to adapt the series, with Julia Roberts attached to star. Amazon has given the show, which will be directed by Esmail, a two-season order.
Back when Horowitz was working on season one, he didn't initially have a clear vision for what Homecoming would become. "It was always a podcast," he says, but notes that the story "grew specifically out of the challenge of how to tackle the possibilities and limitations of an audio drama."
What resulted was a story that unfolded over a series of phone conversations, taped therapy sessions and other interactions. "We wanted it to be conversation based," Horowitz says, adding that he was "interested in the different textures of different kinds of audio." Phone conversations, for example, were recorded with the actors actually speaking to each other on the phone.
The voice actors who signed on to work on Homecoming helped boost the show's profile. Horowitz says Keener was at the top of his list of actors to play Heidi, but he never expected her to say "yes" to the project. Once she was on board, casting the rest of the series came easier. This season, he says, "it was fun to just dream big" about who they could add to the cast.
That's not the only way he's thinking bigger for season two. The six-episode season is also being accompanied by an e-book, the first chapter of which also drops Wednesday. Called The Lost Coast, the book follows Cruze in the five years after his departure from the Homecoming project.
Horowitz, who worked predominantly as a writer before creating Homecoming, says the book allowed him to approach the story differently than the podcast, giving him the opportunity to tell a more internal story. "That's what was exciting for me, to take the two forms and specifically craft them to have them inform each other in hopefully exciting ways."
The Lost Coast is meant to serve as a companion to the podcast's second season. Horowitz says the hope is that podcast listeners will listen to the first episode of season two and then read the first chapter of the novel, continuing that pattern as new episodes drops every week. But he acknowledges that might not be how all listeners consume the story. "I've done this long enough that I know you can never expect anyone to do what you want," he says with a laugh. "You need to make a work that is sturdy enough to withstand any sequence. Hopefully we've done that."
Meanwhile, Horowitz — who will pen Homecoming's television adaptation with Bloomberg — is already starting to think about how to bring the story to the small screen. He says that Esmail "was really looking to just flesh out the core storytelling" of the podcast to expand the world of television. "Each form has its own possibilities and limitations," he adds. "It's exciting to now be thinking about this new story in a new form."
Content retrieved from: http://www.hollywoodreporter.com/news/homecoming-podcast-debuts-season-2-1022397.