Intergalactic Nemesis Returns with 'Twin Infinity'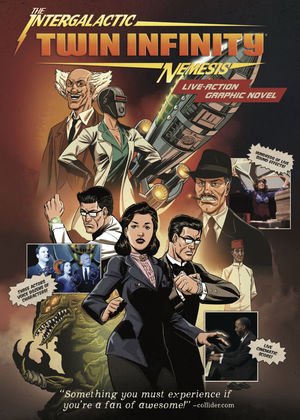 The unique live-action graphic novel, Intergalactic Nemesis with the "Twin Infinity" installment comes to the Bankhead Theater on Friday evening, March 17, 2017.
Although it is the third and final installment in the series, the "Twin Infinity" story line is a standalone adventure featuring the same main characters, Molly Sloan and Timmy Mendez, on an all new mission. This one-of-a-kind multimedia experience, blends all the sounds and wonder of a retro radio show with eye-catching, larger-than-life comic book visuals.
The year is 1942 and it's Pulitzer Prize-winning reporter Molly Sloan's and geneticist Ben Wilcott's wedding day. Ben hasn't shown up to the altar. When Molly goes to his apartment, she finds him. But it's not him, after all. It's a different Ben. A more bookish Ben. A librarian Ben. So Molly enlists this Ben to help her find the other Ben and, in the process, brings a whole new definition to the word "love."
For over a decade, Intergalactic Nemesis has entertained audiences of all ages, from those who remember the popular radio dramas of the 1940s, to those born into the age of digital graphics. Their innovative and unique art form combines three actors voicing dozens of characters, a Foley artist creating sound effects live on stage, and a pianist playing a cinematic score, while more than 1,250 individual, hand-drawn, full-color comic book images are projected on a screen the size of the proscenium. Described by the Calgary Herald as "the coolest theatrical experience Earth has ever seen," Intergalactic Nemesis has been featured on National Public Radio and the Conan O'Brien show and has appeared in more than 150 venues around the world.
Intergalactic Nemesis got its start as a radio play conceived by Ray Colgan, directed by Jason Neulander, with sound effects by Buzz Moran. It found its first home at a small downtown coffee house in Austin, Texas in 1996. Over the next few years, the first few episodes evolved into a full-length script and a score by Graham Reynolds was added. It was broadcast several times by a local NPR affiliate. Comic book art was added, transforming it from radio drama to live graphic novel and local buzz eventually led to larger venues and touring opportunities. As Neulander says, the unique format, combining lively adventure, retro style, and wry humor, works a magic that brings out the 12-year old in everyone.
Content retrieved from: http://www.independentnews.com/culture/intergalactic-nemesis-returns-with-twin-infinity/article_52268e9e-0454-11e7-ad27-4fc8bb3aa34c.html.