Lance Dann: behind the scenes of the Blood Culture podcast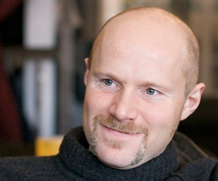 Compelling podcasts with a life beyond the audio as website content, films, post-show discussions with scientists, twitter feeds and an SMS text game
On 20th April 2017, the audio and digital media drama series Blood Culture went live for the first time. It is a bio-medical thriller series, which explores people's anxieties of the marketisation of the human body, exploitation of Millennial interns and the pervasiveness of corporate control in our everyday lives. Portrayed at a meeting of science fiction and science fact, the series is a conversation between creative practice and science, with experts and scientists contributing throughout the development of the narrative. The brainchild of radio producer Lance Dann, the series had spent its first month in the iTunes drama top ten, including several periods at Number 1.
Such instant success is not the unexpected. Dann has worked in radio drama for over 20 years, including as a presenter of documentaries and producers of programming for BBC Radio 4. He was previously a sound designer with the New York theatre company The Wooster Group. He is also an academic, working at the University of Brighton, focusing on interactive narrative, the influence of corporate process on creative practice and the development of augmented reality applications for use in museum and gallery settings.
Content retrieved from: http://www.euroscientist.com/lance-dann-phil-connolly-behind-scenes-blood-culture-podcast/.